Laura Carpenter
Long Term Care Administrator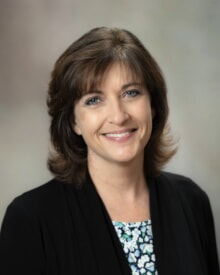 Laura Carpenter is a Licensed Nursing Home Administrator and serves as Administrator of the Long Term Care Center at Cody Regional Health. She also provides administrative oversight for Nutrition Services, and our hospital daycare, The Seedling Center.
Laura obtained her bachelor's degree in Psychology and Writing from Indiana Wesleyan University in 1989 and her Long Term Care Graduate Certificate through St. Joseph's College in Maine in 2007.
Laura began her healthcare career in 1989 as a nursing home Social Worker in Indiana and Minnesota and then moved to Texas in 1994. While in Texas, Laura worked as a case manager and Bereavement Counselor for a small hospital and hospice in Texas. In 2000, Laura went to work for the State of Texas Department of Health in Regulatory Services as a Long Term Care Surveyor and Program Manager where she remained until 2005 when she became a regional Regulatory Specialist for a Long Term Care company in Texas. While working as a regional, she obtained her Nursing Home Administrator's license in 2007 and continued working in Texas as a nursing home Administrator. In 2018, Laura moved from Texas to Wyoming in search of cooler weather and less traffic and went to work for the Wyoming Retirement Center in Basin, WY. In 2021, she met her husband to be and moved to Cody to start her career at Cody Regional Health.
Born and raised in northeastern North Dakota, Laura enjoys the snow, her dogs, photography and painting.