Michele Keith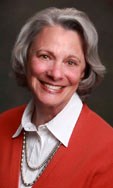 Michele and her husband Rob live on a ranch on the North Fork that they purchased in 1991. Before then, they lived full time in Minnesota, outside of Minneapolis.
They have two grown children, and while in Minnesota Michele was active in the community and served on the boards of the Minneapolis Institute of Arts and The Minneapolis Foundation and chaired the boards of Planned Parenthood of Minnesota, Sister Kenny Institute and Sister Kenny Foundation.
After purchasing the ranch, Michele and her husband began spending more time in Cody. In 1997, they became full-time residents, although they still travel to Minnesota each month.
Since moving to Cody, Michele has been involved with the boards of Park County Mental Health and Northwest Family Planning and chaired the boards of the Wyoming Health Council and Bright Futures Mentoring.
Her interests outside of volunteer activities are enjoying the beautiful outdoors, gardening, knitting, pottery and yoga.