Doug McMillan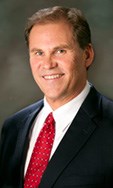 Doug is the chief executive officer at West Park Hospital. Doug has been CEO at West Park Hospital since 1997 and has been a hospital CEO since 1984.
Doug received his bachelor's degree in hospital administration from Concordia College in Moorhead, Minn., and a master's degree in hospital administration from the University of Colorado. Doug grew up in Absarokee, Mont.
Doug is a past Cody Rotary Club President and serves on several regional boards of directors. He is married to Debbi McMillan, and they have three boys, Darrick, Dayton and Drew. Doug enjoys watching his boys' sports activities, fishing, skiing and physical fitness training.