Kathleen DiVincenzo, MD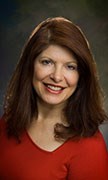 Dr. DiVincenzo has been in the community for over 25 years. "It is important to have physicians on the Foundation Board. Obtaining input from the physician point-of-view is a plus."
Currently, a Hospitalist at West Park Hospital, Kathleen maintained an active practice for many years. Kathleen enjoys the activities that living in Cody has to offer and is pleased that her daughter, son-in-law and new grand baby, Jackson, are here. Over the years, Kathleen has served on many organizations and boards and is on the Cody Medical Foundation and Yellowstone Recreation Boards at this time.