Event Details
Theatrical Séance at the Irma Hotel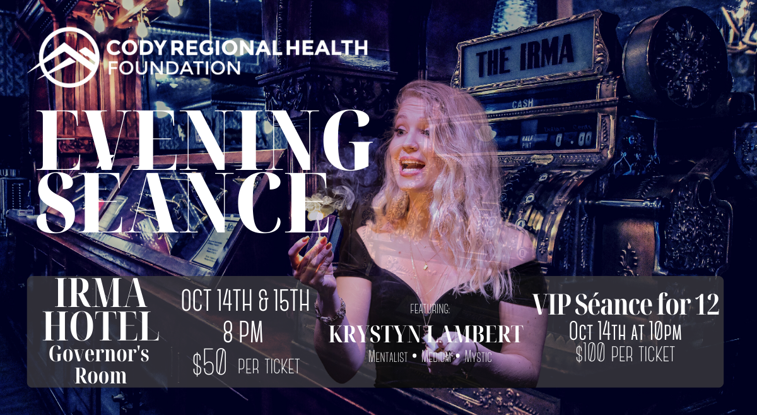 About This Event
Details:
Join for an evening theatrical séance exclusively at the historic Irma Hotel, a spirited place where the passed come to life...​
In past history the Wyoming Area Paranormal Society featured a ghost hunt to discover the haunts of the Irma Hotel. Join us for a new adventure with Krystyn Lambert as she takes us on a journey to connect with this famous hotel's spirited history. Krystyn Lambert previously performed at The Stanley Hotel in Estes Park, CO, domestic and international television appearances, performed solo-acts in Criss Angel's live show in Las Vegas and on national tour.
All proceeds from this event will go back to support the Cody Regional Health Long Term Care facility.
Join us for an intimate late night theatrical séance, and perhaps your questions will find answers...​
**Must be 18 and up. Seating is limited to 66 guests per General Admission event. Guests are encouraged to dine or get drinks at the Irma Hotel and Bar prior to the performance and are welcome to bring their beverages with them. Check In will begin at 7:30pm at the entrance of the Governors Room for General Admission tickets. 
VIP ticket holders will be met in the lobby of the historic Irma Hotel located at the base of the hotel stairs at 9:30pm for check in. Séance will be held in a historic hotel room. Guests are welcome to bring their beverages with them to the performance. 
TO PURCHASE TICKETS PLEASE CLICK HERE: https://foundation.codyregionalhealth.org/a/seance-irma
Registration